WELCOME TO OCTOBER'S
Wolfhome is a haven for artists, and among our community we have a wide variety of talented artists with unique styles and skills. Each month, we will be shining a feature spotlight on one such artist. We don't base this honor on skill level, but on the dedication, passion, and attitude of the artist.
Without further ado, this month's Artist Spotlight goes to…
Congratulations Vivfox!
You have permission to use this special pixel below created by Anoruk and colored by Cider.[/url].




Please check out Vivfox's art here and here!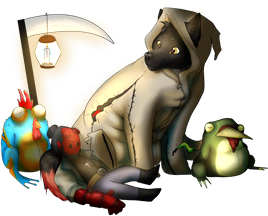 Here are some words from those who nominated you!
"I would like to nominate Vivfox for artist spotlight! Their art has improved tremendously and I think they deserve the spotlight.
From ‪their work‬, it's easy to see how much more professional their artwork looks. They went from a good artist to an amazing artist and I think the team would agree!!"

- - -

"Vivfox's been posting a lot of her art recently and she has improved A LOT in the past few years. she's always trying new techniques and styles and is very creative"
Vivfox, we appreciate your constant improvements, how you share your art with the community, and your active presence!
Thank you to all of those who have nominated spotlight artists!
Have an idea of who should be the next Member of The Month or part of our Artist Spotlight? Send me, Fayete, a PM via Forum!