Clovette's Easy Tricolouring Tutorial
All of the tricolouring tutorials I have seen involve really complex methods. Tricolouring is actually easy as pie, though it can sometimes be tedious.
I'm going to try to make this as simple and to the point as possible. (:

Prerequisites:
basic pose making - IE. sketching, outlining, shading, and colouring



Step 1.


Understand Tricoloured Poses
Tricoloured poses (AKA hexcolours, because we now use 6 colours instead of 3) are the poses that are compatible with Chatlands's recolouring system.
They are used for default pose sets on Chatlands websites. They're pretty hideous until recoloured... in some cases.
* You can use only these hex codes to colour:
0000ff (

blue

), ff0000 (

red

), fff000 (

yellow

), ff00ff (

pink

), 00ff00 (

green

), and 00fff0 (

cyan

).
If you want to colour pick, I've laid them out:



Colouring with a code that is not one of these will result in many disastrous, ugly uglies.
* Tricolour poses must be saved as .gif files.
This will create a hard outline and make them compatible with UD's recolouring code.



Step 2.


Achieve a Greyscale
* Start by sketching, outlining, and then greyscaling one or more poses of the set you are making.
Do not outline the eyes until resized down to pose standards!
* You may do this step at any dimensions, but I recommend keeping them similar because when you resize the outline may be affected (might be thinner/thicker than others).
* Your greyscaled pose should be clean and aesthetically pleasing.
I am using the pounce pose out of Ourani's Kissa Karhu set to show you the process. It is already resized.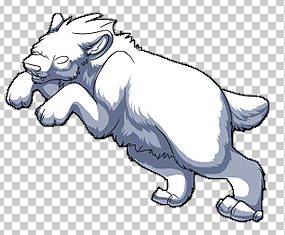 Sketch (C) Shad0wz. Finished by me.





Step 3.


Add Eyes/Colour
* This is the... tricolouring part!!


MAKE SURE YOUR POSE IS RESIZED TO CHAT STANDARDS BEFORE YOU DO THIS!


* Outline the eyes of your pose with a hard pixel brush. This ensures their quality, and they are one of the focal points of the pose.
* When you colour tricoloured poses, they must be already resized because you HAVE to colour them with a hard pixel brush (pixel, binary, pencil, etc.).
* Refer to step 1 after you have resized your greyscale. Prepare your colours by pasting their hex codes (EX: FF0000) into the hex # box.
I always lay out the colours on a separate canvas so I can just colour pick them.
I don't think SAI has one of these (correct me if I'm wrong), so I'm showing you Photoshop's: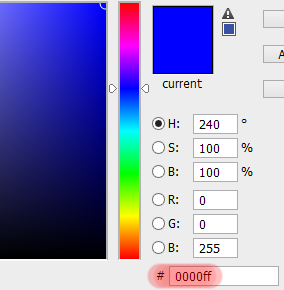 * EACH COLOUR IS UNIQUE TO ONE "PART." For example: Your body base colour may be FF0000, ears 0000FF, nose FF00FF, and marking 1 ("stripes," "spots," or other) FFF000.
* Colour in accordance to each part of your pose. It will vary with every pose set.
* When done, it should look something like this: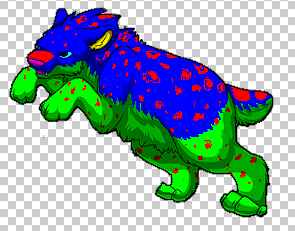 I have it set up so that 0000ff (

blue

) is body, ff0000 (

red

) is spots, fff000 (

yellow

) is ear, ff00ff (

pink

) is nose/paws, 00ff00 (

green

) is underside, and 00fff0 (

cyan

) is eye.
* Make sure that your colouring is neat, and that the colours don't overlap where they're not supposed to. To double check this, hide your shading layers and check around the lines inside of the pose.
You can also use the sixcolour tester tool UD has provided to check this.



Step 4.


Save/Upload
* It's time to save your pose! Save it as a .gif - no other file types are allowed.
This will also make the outline hard... unfortunately, this is unavoidable on Chatlands.
* Upload it to your website using http://yourchatname.chatlands.com/adm" onclick="window.open(this.href);return false;.
I cannot help you with this part publicly because it contains admin panel information, but if you need help with it (it's actually confusing as hell the first time) PM me, prove you're an alpha, and I can. (:

If you have any questions, please comment! (: