Clovette's Referencing (the easy [uh, "cheat"] way) Tutorial



<< NEXT: Lineart >>

This is a basic "how to anatomy" tutorial. I'm going to show you how I reference from pictures and how I work in general.
Remember,

never trace your art

, no matter how badly you think it would help.

Just remember, not everyone learns the same way or advances at the same rate. This is just personally how I've overcome more difficult anatomy struggles.
I'm not putting this into steps since I don't know how to divide it, lol


Find a reference picture.
For this example, I found a stock dingo image from Flickr:
https://i.gyazo.com/6c885bd15169a5ac056 ... b50ec3.png" onclick="window.open(this.href);return false;

Paste it into your art program in a blank canvas. This way, you can easily reference it.
Or, if you have more than one monitor, you can leave it in the browser and pull that window over to the other monitor. That is what I usually do when I reference.

Open a new canvas for your drawing.
Usually I do not use this method, but it's generally the one that is more helpful when you're completely stumped on how to draw something. I was actually taught to do this when in HS lol
If you have the ref. photo in a canvas as well, trace over it in general shapes so that you can more easily fill in detail: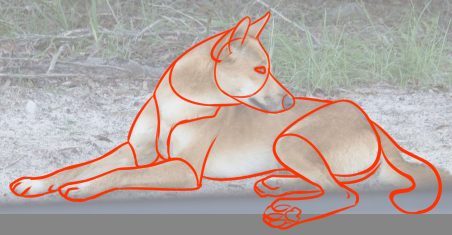 This is not the sketch you will use. Please do not.



Keep this open somewhere you can see it, and on your blank canvas, try drawing those shapes on your own.
I find that starting with the head (eyes, specifically) is the easiest way to draw.
It doesn't matter if your shapes are perfect. They never will be, and mine definitely are not: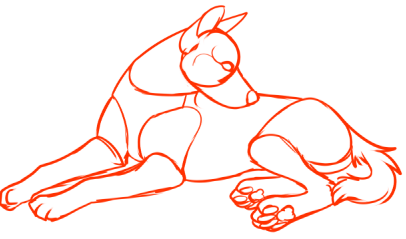 Once you have the shapes laid out add personal flair! Start stylizing it! Add accent to the fur, more detail, etc.
Don't stop paying attention to the reference picture. Remove the trace shapes from it, and look at the details. Pay attention to minute things like the bump in the muzzle, the way the forehead is sloping, and the way the neck connects to the chest.

Whenever I do this step, I make a layer over my initial sketch that will be cleaner and more refined.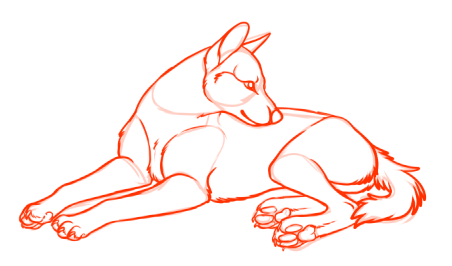 Obviously I am not an anatomy master, but you get the idea!

That's really all there is to it... you can apply this to any reference picture. After you do this, though, challenge yourself a bit further and do it without the shapes. You can still use a ref, but don't make it easy. :p

Honestly I hope this helps some of you as much as it helped me. Once you get the general shapes down in various positions, you can draw on your own using those shapes (what I do now!).

So... have fun. Some of you may not agree with this method, but I was taught this in school and it drastically improved my skills. I genuinely hope this can help some of you.
And remember..


do not trace.
I feel like I missed some things so I'll prolly be back, but it's really simple.