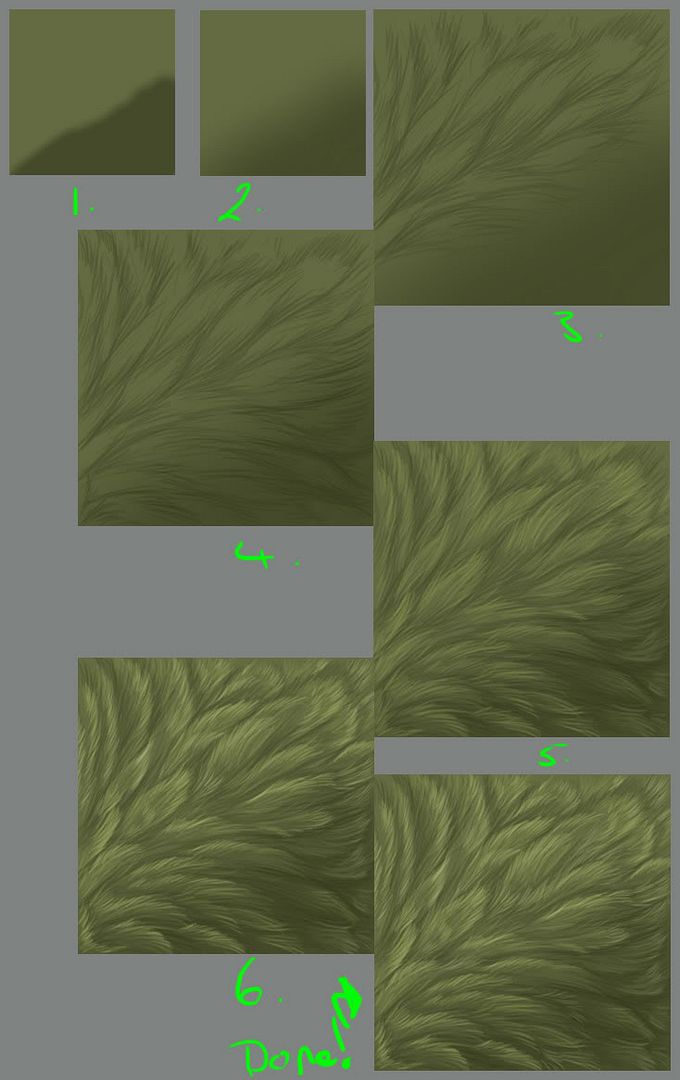 DISCLAIMER! This is purposely not an exact tutorial. I did this alot quicker than I'd usually do fur aswell so :'). To go over every little detail would take a long time and I don't want this using in an "Oh I will 100% copy this" way. So I'm leaving out alot of things, like how I handle fur breaks, different fur lengths and changes in colouration. I also won't be adding in any exact settings I used. As to be honest the settings I use for each piece is generally unique to it.
1. Get basic colour, make new layer. Add dark colour the the areas which will be in the most shadow.
2. Blur the layer to soften the transition between light and dark. Blue amount and method is down to personal prefernce. After it's blurred I merge the layer down as everything I do is on one layer.
3. I use my shadow colour as the darkest colour for the rest. For most of my furring process I keep my brush at the same size and opacity. The size of the piece, colours being shaded and how strong a contrast I want affects what I choose. This file was originally 400x400 px so I used quite a large brush for quickness. This stage defines the kind of fur I want, for this tutorial I just did any old lines, usually it's much more controlled and coherent with length/shape.
4. Adding shadows to the darker area with a darker colour, I usually add a few extra details in the lighter area with this colour aswell.
5. Highlighting time. I use the original base colour to highlight the shadows, and a new lighter colour for the rest. For the darker areas I add highlights sparkingly, usually at the end of where the fur would be, as if the hair is just catching the light 8). For the rest, I use a slightly lighter colour and kind of blanket it on at first. I use this to reinforce areas of fur.
6. More highlights, picking out details, redefining areas and even adding in some more fur if I want a particularlly shaggy or longhaird look. I tend to use a flicking motion at this point and rotate the canvas ALOT.
7. Tweeks, dodge, burn and the last little glimmers of light. Dodge and burn are used sparingly and to create a little more depth. I add a few last highlights to pick out any last details I feel are needed.
DONE :}