Alpha

Posts: 21305
Joined: Sun Mar 10, 2013 3:56 am
Avatar ©: Vestes
Signature ©: Kikki
Gender: ♀️
Pronouns: She/her
Species: Cape Fox
Location: Australia
We wish you all a happy, exciting, safe and stress-free holiday!
Love,
The Wolfhome Admins
Commissions | YCH's | DeviantArt | Art Queue
Previously Akala...
The stuff of Legends

Posts: 17166
Joined: Sun Feb 06, 2011 10:07 am
Avatar ©: spike654
Signature ©: pit
Gender: Nonbinary
Species: Red Fox
Happy Holidays, everyone.

Thank you for being a part of this community and being a place I look forward to seeing every day. I hope everyone has a wonderful, relaxing, and recuperating holiday.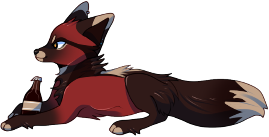 Bird Nerd |

Hufflepuff

| Beer Snob | Introvert
Louloudia • Reference • Reptile Enthusiasts
Previously known as Ragana