Note - This Guide CAN be posted to users who do NOT have a Forum Account. They can see this. =)
Hello! If you are reading this, you are probably new to Wolfhome. WELCOME! This ia comprehensive guide with informative questions that you may have. Note however, this is represented as a light hearted note, though the actual information represented WILL help you.
THE NEWB GUIDE TO WOLFHOME:
A comphrensive guide made by Azriel
FIRST THINGS FIRST - Remember that you Agreed to the
Rules of Wolfhome
, when you signed up on this site, Make sure above all else, follow the rules! "I Didn't Know" is NEVER an Excuse.
Step 1. Get a Forum Account.
If you don't already have one. Click here -
http://www.wolfhome.com/forum
" onclick="window.open(this.href);return false;
DO
- Wait patiently for your account to be accepted. You will NOT get a forum e-mail. Within a day or two you should be able to play around on the Wolfhome Forum.
DO
- Make sure you read the Forum Rules and FAQ before posting by clicking here -
viewforum.php?f=93
" onclick="window.open(this.href);return false;
DO
- When your forum account gets accepted, post a lot in the Games section. Beat users Takatia and Kat in their posts.
DONT
- Bug Forum Admins to accept your account. This may make it take longer.
DONT
- Stare at the forum all day waiting for your account to be accepted. You'll be bored.
Step 2. Buy Deltas.
Easy enough right? Well. There's 2 ways to buy deltas.
Step A
- simply buy them from the Wolfhome website by clicking on the Map, then click My Account, then click Buy Deltas.
Step B
- Lurk on the Forum. Some people have great deals for Deltas for half the price. Better for you. Better for the Artists you Buy them from. Insert something about Wolfhome economy at any moment.
CLICK HERE
to go to that Forum.
Step C
- If you can't buy your own deltas - see
Step 3.
Q: Why do I need to buy Deltas?
A: You don't need to. However. Some things aren't free. To get poses, you need to have a paid account, which requires deltas to function - Like monsters eating people. Need food to survive.
Q: What do I do with them?
A: They are Wolfhome's currency. You can buy things with them, raise your subscription, and get more access to more sets.
Q: How come Wolfhome isn't free?
A: It costs a lot to run this site, nothing in life is free. Look on the bright side, in the "old days" you didn't even get to choose your colors other than 4 standard colors (yellow, gray, brown and black). Though, I heard on Howloween, you get a free account for a little bit!
DO
- Read the FAQ to Deltas, by clicking
HERE
because I'm too lazy to type it all out for you.
DONT
- Steal your mother's or father's credit card. They will find out and you will be in trouble. No joke. Don't do it.
DONT
- Beg people for Deltas. We are cheap. Users don't like giving their funds up.
SUBSCRIPTION LEVELS: Click
HERE
Step 3. What to Do if You're Broke.
You are not alone! Here's what you can do! You can earn deltas. It's a harder process, but it can be done! -
Step A.
Try Coloring poses for other users! (See Step 4)
Step B.
Draw your own poses for users!
Step C.
Enter contests by users or Wolfhome, like the Weekly Wolfhome Comic!
Step D.
Expand your art skillz to FurrAffinity or DeviantArt by selling your work!
DO
- Practice Practice Practice. Don't give up your art skills. Don't listen to anyone that tells you that you suck or are horrible. They are just jealous of your talents.
DO
- advertise on the proper forum topics or in chat for your artistry skillz.
DO
- Turn in Suspected Art Theft to the nearest Admin as soon as possible.
DONT
- Beg for Money. Like said above. Most of us are broke.
DONT
- Steal Art. If you can't Pay the Time, Don't do the Crime. It's an insult to you, the Artist and the rest of the Community.
Step 4. How to Identify Yourself.
About this time, you are becoming aware of who you are. I hope. You most likely have an awesome name that makes you feel you. Now, you probably should identify yourself with designated "Markings."
Markings are your uniqueness designated to you and your character(s). You may have as many characters as you want. There's no limit. Nor is there a species limit, though be aware, only canines can be in public rooms. Everyone else is stuck in private rooms.
Step A.
Finding a Name - If you aren't satisfied with your username, try changing it to a unique name with little to no numbers in it. Your name can sometimes be judged harshly if your name isn't original or creative.
Note - You MAY get made fun of for having a name like - RickAstley, Bieberfeverforever22 or ILoveLadyGaga
Step B.
Identify with Colors that represent YOU. You'll be staring at them all the time, so, choose something that you like.
Step C
. Pick your species. Create your own if you wish. There are many different kinds of species. Chances are, you'll find one you like.
Step D.
Pick a pattern with your chosen colors on your chosen species. If you're uncreative, you can always buy a premade character in the
Character Markets
on the forums!
FREE TEMPLATES THAT YOU CAN USE TO GET STARTED-
Page of FREE References for use
HERE
.
Ref by Kesame
Ref by Silence
Ref by Nightspiritwing
Ref by Dip
FREE FOR ONLY DREDGEWOLVES - by Dip
WTF is a Dredgewolf? - Click
HERE
.
WTF is a Pawtail? Click
HERE
DO
- Be creative and happy with your character. It will represent you, and many will identify you with it as such!
DONT
- Steal someone else's characters. People don't like copycats. And will not be nice to you.
Step 5. How to Find Poses
There are different poses to figure out exactly what you want!
Bulletgutz has written a lovely extensive guide to figure out what kind of poses you want by clicking
HERE
.
Where can you get these mysterious poses?
Step A.
Browse the forums! (See why Step 1 is so important?) The Wolfhome Markets are a great way to find what you want. Try the Freebie Emporium!
Step B.
Click This Link
HERE
for Free Useable Poses.
Step C.
Bribe
Buy A pose from someone. Artists usually have some pretty decent pricing for Premades and/or Customs.
DO
- use Wolfhome Poses Posted from Wolfhome Forums or Posepro with proper permissions.
DO
- Save ALL transactions with another user as evidence that you can use a bought pose (if you buy one), as well as the link to where your pose is. (See Step 6)
DONT
- Use Photobucket except for any links posted above. Most Photobuckets are not trustworthy.
Step 6. How to Get Poses and Use Them
Awesome. You got your pose. It looks grey. Looks nothing like you. It's sitting on your computer. Now what? Well, what you're going to want to do, is color it and up load it for your own precious use.
Step A
. Pick a coloring program. Gimp, Pixlr and Adobe Photoshop are common favorites.
Note - Gimp and Pixlr are Free. Photoshop you have to buy or 'borrow" from a friend.
Gimp
-
http://www.gimp.org
" onclick="window.open(this.href);return false; and
Pixlr
=
http://www.pixlr.com
" onclick="window.open(this.href);return false;
Step B.
Use some Coloring Tutorials to Help you out. Click
HERE
for some Tutorials.
Step C
. Make sure your Pose follows the
Art Rules
before uploading it.
Step D.
A step by step guide to Use the Uploader -
http://www.wolfhome.com/faq/pose_uploader.php
" onclick="window.open(this.href);return false;
And congrats, you now get to experience the joy of poses! Note - You will get notice if your poses are accepted. You may not get a notice when your pose is rejected.
DO
- Wait patiently. Poses should take minutes to a few days to be accepted.
DO
- Have fun while waiting for your pose, make friends, and chat comfortably!
DO
- Ask any Administrator questions regarding ART or anything else at any time!
DONT
- beg an Administrator to accept your pose. This may result in you waiting longer.
DONT
- ragequit and whine if your pose is rejected. Instead, fix the reason given of your pose rejection!
Step 7. How to Behave Properly in Chat.
Now that you look less like a Newb, now it's time to not behave like one. Maturity is knowing when to be immature and when to be mature. Trust me, everyone is immature (and should be proud!), however, there is a time and place for everything.
Step A.
Mates, Pups and RP - Keep in mind, that Wolfhome is not a roleplay site. Users however, like to roleplay, and are required to keep it only in Roleplay Rooms. Most Wolfhome users DO NOT want to be your mate or puppy or roleplay with you. Don't be sad if they don't want to. Just find a roleplay room to enjoy yourself in instead.
Note
- WTF is an Instamate? Instamates are defined as Users who meet you and within 30 seconds want to date you, and claim to be in love. Do not be one of these users.
Note
- Adminstrators wont ban your "Mate" for cheating on you.
Step B.
The Forbidden Growl pose - You MAY use the Growl Pose in any room. It is NOT designated to Roleplay rooms. However, it is best to use it there. DONT use the growl pose to harass or annoy others. Abuse of the growl pose is what gets users in trouble. Feel free to growl at the wall, or at the clown in Kindergarten. Clowns are creepy.
Step C.
The Cry Pose - Everyone uses this pose. Wolfies get sad. It's okay to be sad. But keep in mind, users don't hate you. If you think they do, they don't. Wolfies don't like other sad wolfies and are avoidant. INSTEAD, try joining a pleasant conversation, or creating a pleasant conversation for others to join in on. Happy wolfies = more happy wolfies. Win/Win situation.
Step D.
- Ignore Feature. Wolfies can't always get along. It's inevitable. You butt heads, you don't like his or her pixels. They stare meanly at you. What can you do? Ignore them Forevers. No really, ignore them. If you click on their wolfie, or type !ignore username, then they go away. Foreverz. It's like your own personal ban against them. Awesome, yes? Feel free to use this often. Though, if the situation can't be disputed with the ignore feature, feel free to call an Administrator to help handle the situation.
Step E
. Space Bubbles - Be conscientious of other users. Sometimes, you may "Space Invade" others, and it makes them freak out. Many users like their space bubbles and it's good to ask before sitting next to someone or be close to them. Talking to them first usually helps too!
Step F.
- Private Rooms - Beware of Private Rooms. If you don't know if you should be in the room, always call the Room Owner. If it's not your room or there is no "All Welcome" posted, Don't go in it without permission. Remember to read Private Room Rules for that room before entering. Users have their own jurisdiction in private rooms!
Step G
- Personal Information. - You really shouldn't give out your personal information if you don't know the person. If you feel uncomfortable or suspect something strange happening, never hesitate to call an administrator.
Step H
- tRy NoT tO tYpE LIKE THIS. It's really annoying. Try typing with as correct spelling as you can handle and full sentences. It makes your IQ points look higher!
DO
- Take Roleplay of any sorts to Private Rooms, Whisper or Roleplay rooms if Asked to not Roleplay in a Non Roleplay Room.
DO
- Give Healthy Conversations without Ridicule of others.
DO
- Call an Administrator for help anytime. (also see Step 8)
DONT
- Troll or Harass someone. It's not very nice.
DONT
- Handle situations with your own personal sense of being a vigilante.
Step 8 - Roleplay, Mates, Packs and Pups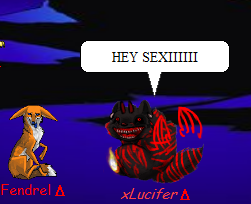 First be forwarned that WOLFHOME IS
NOT
A ROLEPLAY SITE. We don't encourage roleplay, so we designate it to specific roleplay rooms. Please keep all Roleplay activities within those rooms only.
Mates are generally discouraged, as it brings out a whole bunch of unnecessary drama. However, the plus side is, you can generally create strong friendships through these types of behaviors. Please keep in mind to not be an "Instamate."
WTF is an Instamate? - An Instamate is a slang term for someone that desperately seeks out mates and will date whoever comes their way and will declare they love them within 30 seconds or less. It's usually deragatory.
Pups are generally discouraged as well, due to babymama/babydaddy drama. Not to mention, do you really want to "take care" of a person pretending to be a pup that could realistically be twice your age? Awkward.
Packs - You may not realize, but Wolfhome is considered as one giant pack. Individual packs seem amusing and fun, but try not to get it out of hand.
Step 9 - How to Get Help and Send Logs to an Administrator
HALP You need Admin help! Whether it be a Question or Someone is being a Naughty Wolfie! Click Report to Howl any Administrator of your choice. We promise we don't bite!
WTF is an Admin? - See Step 10.
To See a complete VISUAL of the following Steps click
HERE
Step A
- Click Report and Select the Administrator of Choice. And Ask for their help and why.
Step B
- Once you call the Administrator of your choice, don't leave the room! Calmly explain to the Administrator the problem you are having.
Step C
- Copy all of your Scroll Log of the incident. This can be found on the bottom right hand corner of your screen with all the text.
Step D
- Send that Scroll Log to
http://www.wolfhome.com/message
" onclick="window.open(this.href);return false; addressed to your called Administrator.
Step E.
- Let the Administrator handle the rest. =)
Note - IF THERE IS NO ADMINISTRATOR AVAILABLE - You may still send your logs to an Administrator by using Step D OR send in a Problem Ticket on the main
Wolfhome
page.
DO
- Ask for help whenever you need it. Never be afraid to ask for help.
DO
- Report things you find suspicious, or makes you uneasy.
DO
- Advise the user politely if you feel uncomfortable with something
DONT
- Retaliate if the other user is offending and harmful to you. You can get in trouble yourself.
DONT
- Try and help the admin by controlling the situation or making it worse.
DONT
- Ever be scared of an Administrator. They are here to help and should never be feared.
Step 10. What is an Administrator?
An Administrator is a Moderator of the Chat. Surprisingly, they aren't Bots. They're real people. You are free to call them with important questions and concerns, as well as reporting to them of naughty wolfies.
Administrators may also have specialized duties, including but not limited to Art Review Team and Forum Team.
There are
4
Ranks of Administrators - Alpha, Beta, Gamma, Helper.
Current List of Administrators
Step 11. How to Become an Administrator
So. You want to be an Administrator huh? Well. Are you sure? Great Power comes Great Responsibility.
Unfortunately, you cannot ask to become an Administrator. Demanding to be one, will definitely not get you to be one any faster either. So, what do you do? There's no steps to this. The best thing you can do, is be a nice friendly user. Enjoy your time on Wolfhome, follow the rules and eventually you just may get noticed. We add to the Administration Team when we feel we need "more hands on deck." Being an Admin's Bestest Friend in the Whole Wide World doesn't guarantee you to be an Admin either. Nice try though. =).
You CAN however, [urlhttp://forum.wolfhome.com/viewtopic.php?f=8&t=154166]fill out an application[/url], or nominate a friend!
Step 12. How to Make Friends and Not Be Lame

Awesome. You're one of the cool kids now. You have poses. Total Myth! FACT - You do NOT need to have custom or premade poses to be one of the "cool kids." But it sure makes you look spiffy.
So. How do you actually become known? Well, the best thing to do, is simply chat with other users. Look for friends. Look for common interests.
But OMG everyone is in little groups! WHAT DO?! - That's okay. Social cliques are quite common. Simply come around often, and chat often. Who knows, you may end up part of a group yet, and make lots of friends!
What kind of topics are a good way to make friends? - How about trying friendly ice breaker questions? Favorite movies, favorite music, favorite foods? Very common and friendly basic conversations to get you started. There's thousands of topics to choose from!
Step 13. How to Be a Forum Junkie.
It's not hard to be a Forum Junkie. With how often the forum is realistically used, it's hard not to get sucked in.
Step A:
Read the Forum Topics. Read what you want. There's many to choose from, it's a great source of information.
Step B:
Post wanted feedback on others' art. People enjoy friendly bouts of encouragement on their art, or possible positive criticisms, though note that not all artists wish for commentary. Use carefully.
Step C:
Become involved. If you find something funny, or have questions, post about it in the proper forums.
Step D:
Play in the games! The Game boards are very interactive and usually require the help of other users to play along.
Step E:
In no time, you will reach so many posts that you may beat Takatia, Kat or Silver one day at being the Ultimate Forum Junkie. Good luck!
DO
- Make sure you post in the proper forum and follow the
Wolfhome Forum Rules and FAQs
.
DO
- Join contests and Wolfhome events, the prizes can be amazing!
DONT
- Post Journal posts or unwanted posts based on the Forum Rules.
Step 14. How to Get A Title In Your Sniff.
So, you want to have a neato snazzy title for some reason? Awesome! These titles go at the bottom of your sniff and you can relatively have it say whatever you want (as long as it's appropriate). All you have to do, is politely ask a wonderful Administrator for a title. And just state what you want the title to say. PRESTO CHANGEO you have a title.
Enjoy. =)
Note - Did you know that Sessgo's title is 'Coffee Queen'?
Note - Watch out for Grim, her title is 'Jerk'!
Wanna learn how to edit your sniff with awesome fonts, colors, and pictures? Look
here
Step 15. How To Ignore That Annoying Kid
There are 3 ways to do this.
Option 1
: Manually Click Your Foe, Click Ignore. POOF. Gone.
Option 2
: Type !ignore username(insert Foe's name here)
Option 3
: Go to the main map. Click on My Account. Click on Edit Profile. Click Ignored Users. Type in Foe's Name. POOF. Gone.
There. Now they're gone forevers!
Note: No. You can't ignore Administrators.
Step 16. Cool Commands
A comprehensive guide made by Takatia and Avani
HERE.
(Note - must have forum account to view).
Step 17. How to Win at Wolfhome.
By reading this guide, you already are one step towards your goal of Winning at Wolfhome. Congratulations, you are now surviving from becoming a "Noob" to becoming a regular user. Well done!
Hopefully this guide has taught you some important and vital information that is a key to your survival at enjoying this site. Remember - have fun, be safe, and enjoy, after all, this is a Chatsite. =)